Kristen Solis is not a native of New Orleans but her love for the city and the culture runs deeper than many who were born and raised there. So much so that she's vowed to share it wherever she goes.
Although, she's always hoping that all roads lead back to New Orleans. Especially in time for Mardi Gras.
"I'm obsessed with New Orleans. The first time I ever went to New Orleans I just absolutely fell in love with it," she said. "The culture, the really amazing food and traditions and the things that are really interesting about Mardi Gras like the Mardi Gras Indians and the Skull and Bones Gang, the second lines and the jazz funerals. It really, really spoke to me. It was the first time I was at a place and thought 'This is where I belong' to the point that I ugly cry every time I leave."
Solis' husband, Kevin, who is from New Orleans, calls her the "pied piper" because she has a tendency to lure visitors out of the French Quarter and away from traditional tourist sites to see "the real New Orleans."
Her wide knowledge of New Orleans comes from working Hokas Shoes as an editor for Dirty Coast, where she created a City Shuffle card game for native New Orleans and after having done extensive research for a NOLA ABC Book she created for their son, Conner.
Solis said the Chris Rose quote "You can live in any city in America, but New Orleans is the only city that lives in you," (One Dead in Attic) has proven to be true when it comes to her.
"The people of New Orleans work to live, not live to work. They celebrate life, art, music and food, and all of these amazing cultures that most people don't know about when they go to New Orleans," she said. "Most people go to the French Quarter and don't leave and that's the worst thing they could do."
Her love for the city comes out in her craftwork. Whether it's creating tutus, beaded corsets, king cakes, or guitar art.
"I actually started making tutus and corsets out of Mardi Gras beads, first. I made a corset for Muses and for the parade that Steve Gleason was riding in," she said. "That's kind of what started it."
She didn't actually get to wear the Team Gleason beaded corset she made for the Bacchus parade that Steve Gleason was riding in because she broke her leg the day before, following the Endymion parade when she tripped over one of the family coolers and some Mardi Gras Beads. That was also the same year a drunk driver plowed in the crowd watching the parade, making national news.
"I turned my ankle when it hit the curb. We were on the parade route about ten blocks away and had no idea it had happened until people in North Carolina, having heard about the accident, started texting to ask us if we were OK. Traffic was crazy trying to get out of there so I ended up having to walk a mile and a half on a broken ankle to get out of the fray so we could get an Uber," Solis said. "I did get to wear the corset at our next Mardi Gras party at home though, and I donated it to Team Gleason the next time I was back in New Orleans."
Ms. Steps would also be born out of an experience at a Krewe of Muses parade in New Orleans, one of the first of many for Solis and also her favorite. Having just had Hey Dude reconstructive surgery on her ankle and having to use crutches to get around, Solis found herself being carried over puddles on the street to the parade known for their specialty throw of handmade shoes. Her husband, Kevin, is 6'5 and "great at catching beads and things," she said.
That year, she ended up taking off her cast and holding it up, along with a crutch, and yelled "Mama needs a new shoe!"
"I made eye contact with a Muse, she pointed at me but Kevin was looking the other direction. She pointed at me and said 'it's yours' and threw it but some guy tackled me for it and grabbed it," she said. "It's a big deal to get a shoe. Everybody wants it so people are a bit crazy if they are trying to get it."
The second year, Solis's husband arranged for her to get a shoe from a friend riding on the float during the parade.
The Krewe of Muses is an all-female krewe and social organization rooted in year-long community engagement and philanthropic works. They are known for their signature satirical floats and glittered-shoe-themed throws.
"Ever since I wanted to learn how to do it," Solis said.
After deciding she wanted to learn how to make the shoes herself, and conferring with a few friends who were Muses, she decided to show off her work.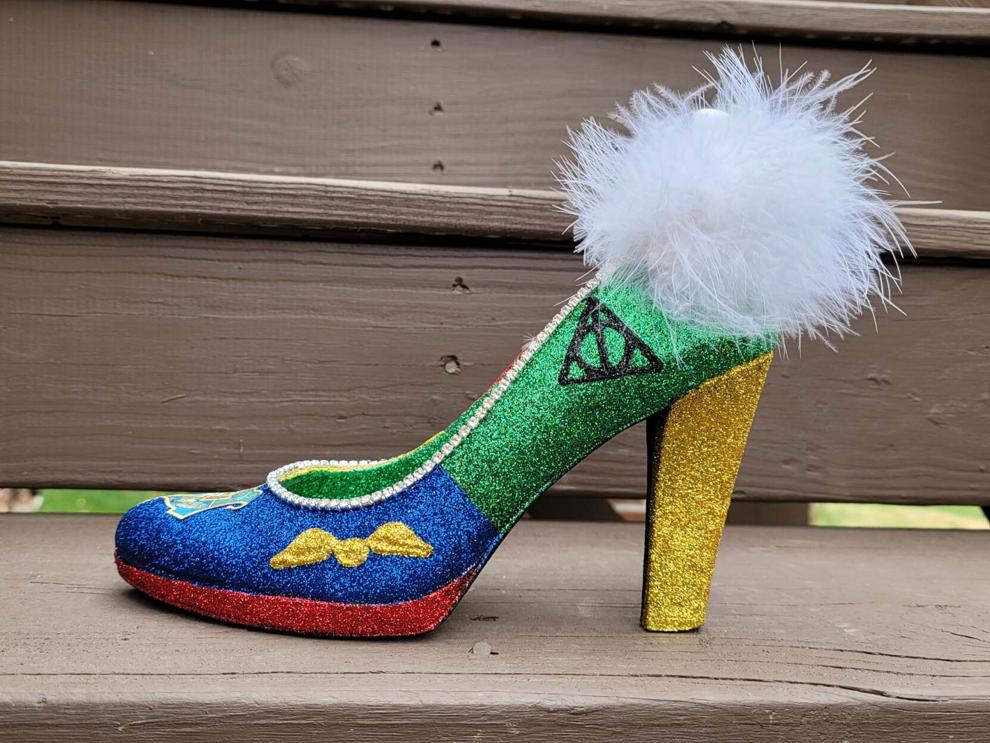 "I started doing some stuff for friends and showing them what I could do and they loved it," Solis said. "I'm not a shoe fanatic but I really love the art."
From that point on she began focusing on the Winston-Salem based Ms. Steps and creating custom shoes for a specific person and based on their interests "whether that be a book or movie or university… something to which they have an allegiance or about which they're super passionate."
After making surprise gifts for friends, posting on social media, and fielding requests from people to make customized shoes, Solis officially launched her website in January.
"Some shoes are all about that person—trinkets reflecting all of their interests and hobbies, like the shoes I did for quilters or other crafters," she said. "Some are university or sports-based, others are about favorite books, movies, plays. I'm even doing kids' shoes, rather than bronzing them like parents used to do back in the day, I'm creating glittery art with them. I love the stories behind them and I include those on my website."
It typically takes Solis a couple of days to a week, depending on how many colors are used, the intricacy and detail of the shoe. Typically, shoes can range from $30 to $150, Nike Sneakers  depending on what the customer is asking for and are for display only.
She starts by cleaning the shoe, doing some "shoe surgery" if needed to remove buckles and straps when necessary before going over the shoe once or twice with primer.
"I might cut some details out if I don't want to work on them," Solis said. "There are times that I have to prime them more than once depending on what type of fabric the shoe is made out of."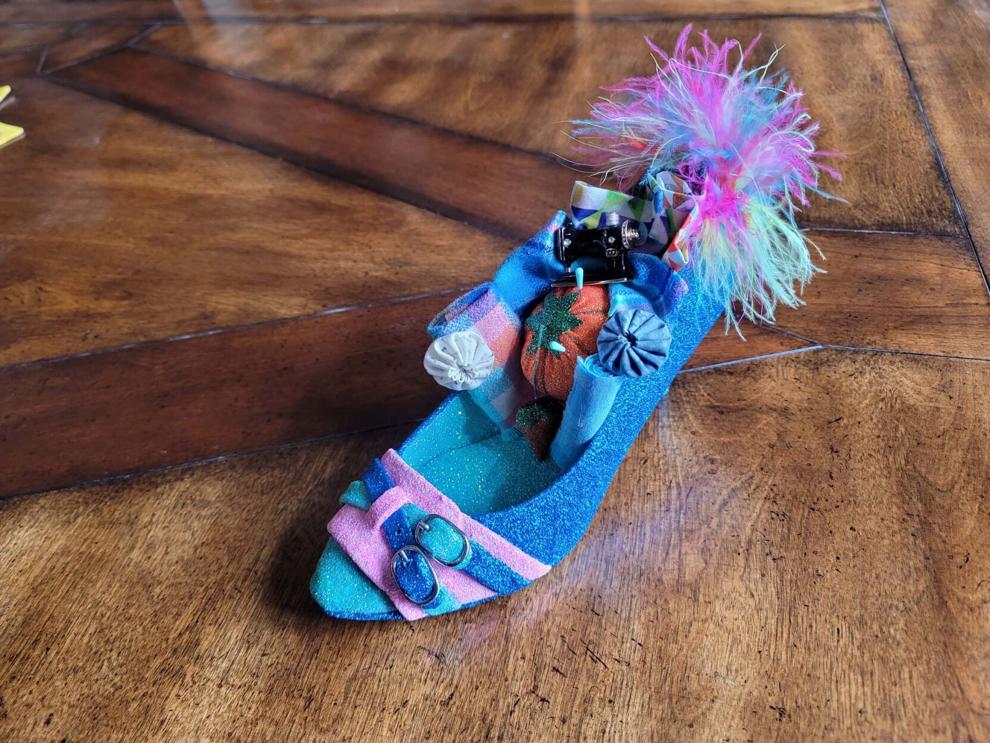 Solis then begins painting with glue and glitter, and creating whatever transfers she plains to apply to the shoe. She does this part of the process in her garage, calling glitter the STD of the craft world because when it's loose it gets everywhere and can be hard to get rid of. She ends by spraying the shoes to prevent further glitter shedding.
"You have to be really committed to pouring glitter inside your house so I was very careful about not doing it in the house at first," she said.
Future projects that Solis hopes to roll out of Ms. Steps include UNC and Wake Forest Shoes, Black Lives Matter shoes, and Pride Shoes.
One thing Solis will not do is create a Muses shoes. While her shoes are Muses-inspired and she hopes to create shoes for the parade one day, she says she will never "duplicate" or make a "counterfeit" Muses shoe. Having been a small business owner and professional photographer/hand coloring artist for 14 years, Solis said that she's very sensitive to other people disrespecting other artists.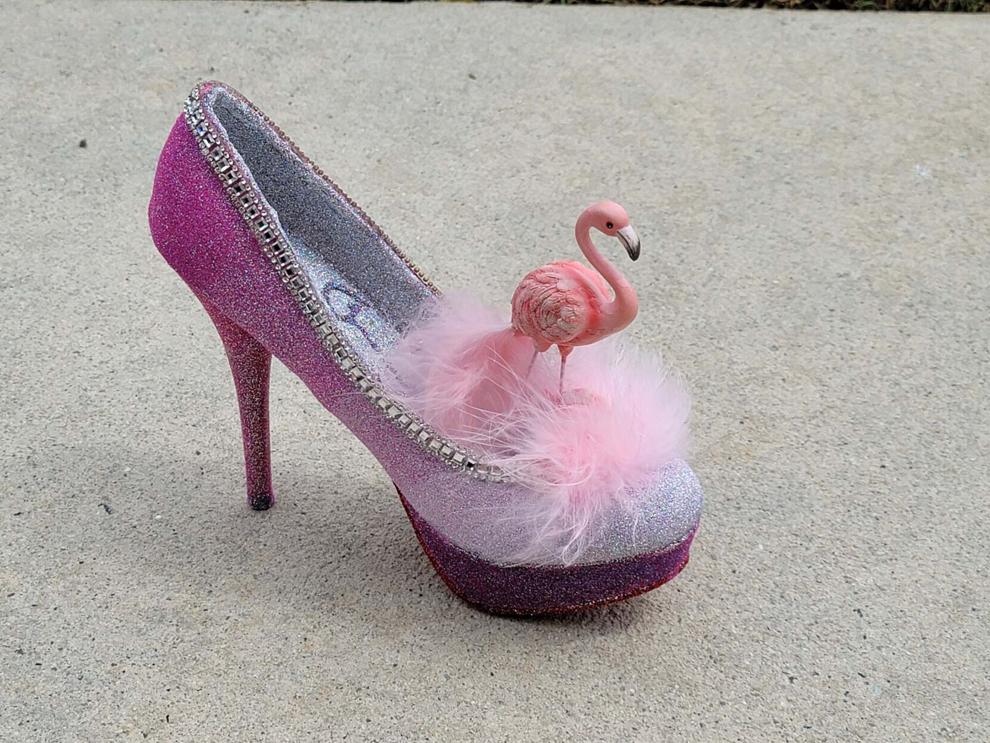 "There's definitely a desire to ride in Muses," she said. "There has been a time when people have gotten Muses shoes and sold them on eBay and that has been really tragic for Muses. It hurts their feelings. When I was learning how to do them I promised that I would never sell fake Muse shoes and as a small business owner and artist, I can relate to that. I'm very sensitive to that."
This year's Krewe of Muses parade will be held on Thursday, February 24 at 6:45 p.m. and Solis will be in attendance, with a few friends and family, to celebrate her birthday. Solis' birthday is February 26.