From her marriage to Prince Charles in 1981 to her untimely death in 1997 at the age of 36, Princess Diana became one of the most recognizable women in the world, cultivating a sense of style that still inspires modern fashion trends today.
One of the fashion staples in Diana's working wardrobe was the simple but classic skirt suit which she owned in a rainbow of colors in a wide range of textiles from silk to wool crepe.
Since marrying Diana's son, Prince William, in 2011, Kate Middleton has adopted the stylish skirt suit for official royal engagements and she has been compared aesthetically to her late-mother-in-law time and again.
Princess Diana: Canterbury, May 20, 1995
After her separation from Prince Charles in 1992 and over 10 years spent in the public spotlight, Princess Diana had developed a taste for simpler, chicer clothes than had been the norm throughout the 1980s.
One of Diana's favorite designers and friends during the early 1990s was Gianni Versace. Many of her later skirt suits were designed by Versace, inspired by the clean clipped chic style of former First Lady Jaqueline Kennedy.
Diana's milliner, Philip Somerville, who created her famous pillbox hats, revealed after the princess' death that she had once asked him: "Do you think, one day, people will think of me as the Jackie Kennedy of my day?"
Versace designed this ensemble, worn twice publicly in 1995, as a pastiche on Jackie Kennedy's infamous pink suit that she wore on the day President John F. Kennedy was assassinated in 1963 and Diana wore it with a Somerville pink pillbox hat to complete the tribute.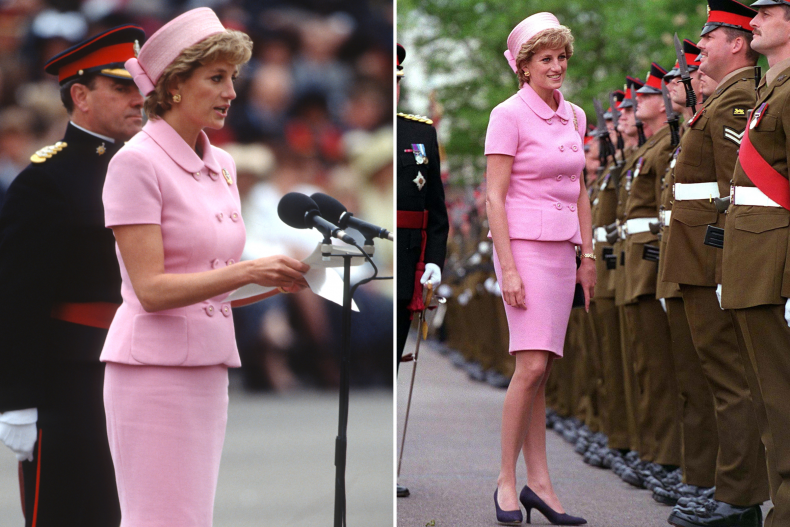 Princess Diana: Liverpool, November 7, 1995
This orange wool skirt suit was also designed by Versace, and Diana wore it to the Liverpool Women's Hospital, Merseyside in 1995.
The elegant suit was worn with contrasting black accessories including a Lady-Dior handbag and black leather belt.
To elongate the silhouette of the outfit, the princess wore a high-neck black sweater underneath the suit and black opaque tights.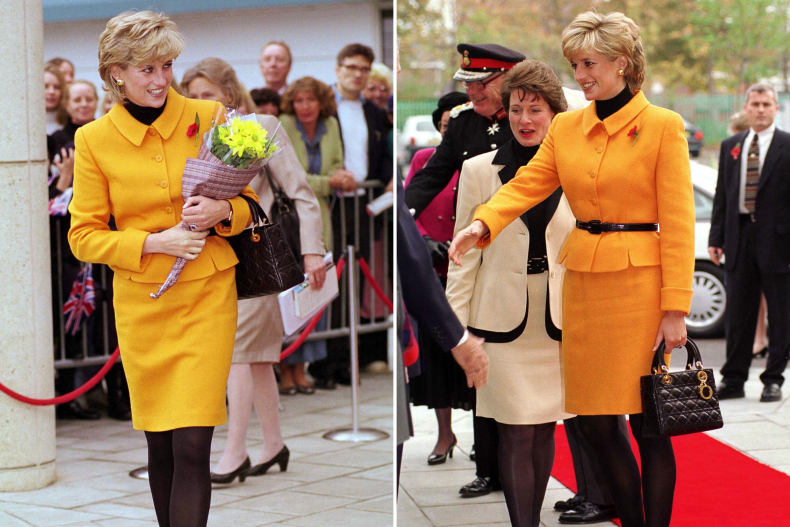 Princess Diana: Savoy Hotel, March 19, 1997
This delicate pink suit with mother of pearl buttons was designed by one of Princess Diana's favorite couturiers, Catherine Walker.
The skirt and jacket combination was worn with neutral toned leather accessories to the Daily Star Gold Awards at London's Savoy Hotel.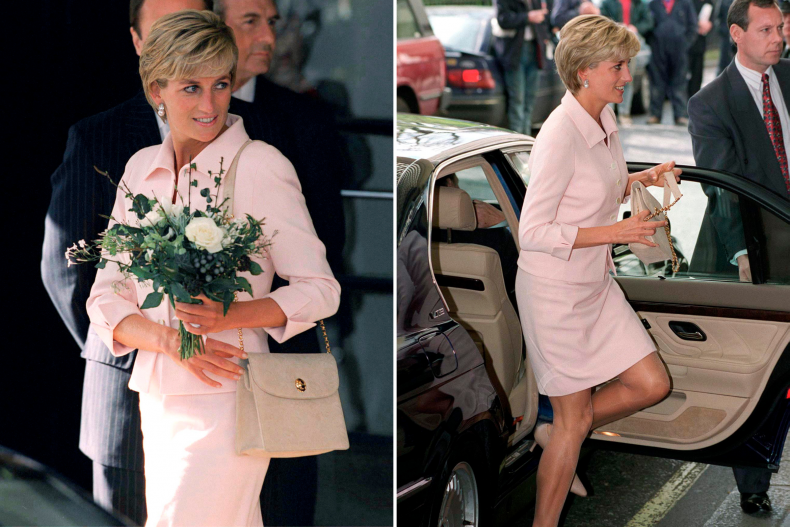 Princess Diana: British Lung Foundation, April 21, 1997
After the princess' 1996 divorce from Prince Charles, she moved away from her established trend of buying the majority of her clothing from British designers. One of the fashion houses she began to patronize regularly at this time was Chanel.
One of the princess' favorite Chanel pieces was bought in the last year of her life and worn on a number of occasions including a British Lung Foundation event and Prince William's confirmation at Windsor Castle.
The blue boucle tweed suit from the house's Spring/Summer 1997 collection follows the famous line of suits which were introduced by Coco Chanel in the 1950s when she re-opened her fashion house after World War II.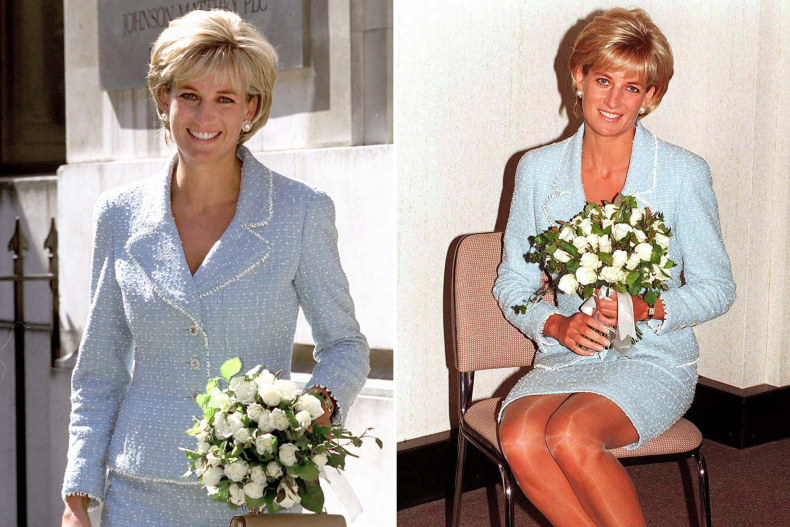 Princess Diana: Washington, June 17, 1997
During one of the last overseas working visits of her life, Diana wore a number of Versace outfits, including this flatteringly simple suit made of purple crepe.
The princess wore this suit to make an anti-landmine speech on behalf of the American Red Cross in Washington.