How would you describe your style? Minimalist and simple. It's very different to what you see on air. I'm fortunate at Channel 9 to have the wardrobe and make-up fairies transforming me for work, which has probably made my personal style a bit more relaxed. I read that Barack Obama wore only grey or blue suits; he didn't want to make decisions about what he was wearing because he had too many other important decisions to make. As a busy working mum that resonated, and I've created a capsule wardrobe of black, white, grey and denim pieces.
What are three essential items in your wardrobe? Great jeans – I love Paige, AG and Zara – a white tee, Camilla and Marc or Assembly Label, and a black Camilla and Marc blazer.
Any go-to jewellery? My rose gold wedding and engagement rings and a two-tone rose gold Tag Heuer "Aquaracer" watch.
What is the oldest thing in your wardrobe? There are a few tracksuits in there that nobody needs to see.
And the most recent addition? Stylerunner tights and top which I was wearing to drop my six-year-old to school and he asked me not to get out of the car.
What would you wear …
… on a first date? A nice top, jeans and heels.
… on the plane? Comfortable tights, an oversized shirt, a jumper, warm socks and sneakers.
… on the red carpet? Old-school Hollywood glamour. I recently wore a gorgeous black Versace dress to a charity ball which I loved.
What's your favourite fashion era? For someone who is such a minimalist, this is probably surprising, but I love the '60s. Women finding their voice and having fun with their bold, strong fashion choices: print shift dresses, headbands, the eye make-up. I wish I was that brave with my fashion.
Who is your favourite fashion designer? I love Anine Bing's collection. She's effortlessly glamorous; I get a lot of inspiration from her.
What's your fragrance of choice? Maison Francis Kurkdjian Baccarat Rouge.
Can you remember a favourite outfit when you were a child? Anything tie-dye or fluoro. That's probably why I find it hard to go for colour now – I'm scarred!
And your worst fashion mistake? Pink, high-heeled thong shoes in the 2000s. I thought I was cool wearing them to the nightclubs. Now, I cringe.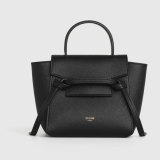 Is there are current trend you like? I'm very happy that the jeans-and-sneakers look has come into fashion.
Is there anything you would never wear? I admire the girls who can rock a crop top or midriff but there's no way you'll see me in that.
What's on your wish list? I've been eyeing off a Celine "Pico" bag, but with two young boys I feel like I can't have nice things, so I'm holding off.
What shoes do you wear most often? New Balance "327" sneakers or Birkenstocks for every day; black Prada pumps for work.
What do you sleep in? My husband's shirts.
Who's your favourite fashion icon? Jackie Kennedy for her polished, glamorous style. Also, for a modern-day style icon, Harry Styles is rocking it; I admire his fashion choices.
EDITOR'S PICK
What do you wear on a typical working day? I like simple, well-structured outfits; comfortable suits – I call them my "lady suits" – that work with heels and sneakers. Scanlan Theodore, Ginger & Smart and Boss.
What's your favourite Sunday look? It starts with a lady suit and full face of make-up for Sports Sunday, then it pretty much goes downhill from there – tights, T-shirt, sneakers – when I head home to hang out with the boys.